11-23-2008, 05:54 PM
LawnSite Platinum Member

Join Date: May 2008

Location: Raleigh, NC

Posts: 4,363
alrighty then... I take too many pictures.
From my second photobucket account lol:
So day one of "plan B" work out problem free. I'm taking the mud and extending the shoreline out about about 20' and then hauling the rest upto the road and extending the slope from the road. I'm probably be using my buddies tracked off road dump truck for that.
here's some pics
I had to do some clearing where some mud is going, then I ripped all these bushes out, and dug out hole to store the mud in.
Digging the storage hole
Getting the volvo in deep
still can feel solid bottom
5:00 somewhere
I can tell you one thing, this place is surrounded by old folks who don't have anything better to do then ask me question. Solution... Never make eye contact, it really does work LOL. They get closer, and closer, then you accidently drop a bucket full of mud from 6 or 7 feet and send a little mud flying toward them. Evil, but very funny in my own little world
__________________
Chris
"Life is like running a motor grader. You have to look down the road and plan for whats ahead and not down at your feet!"
http://www.youtube.com/user/letsdig18
New facebook fan page
http://www.facebook.com/pages/Letsdi...3541611?v=wall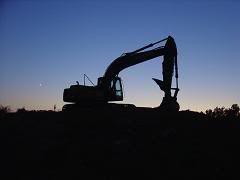 Posting Rules

You may not post new threads

You may not post replies

You may not post attachments

You may not edit your posts

---

HTML code is Off

---
Layout Style: