04-06-2009, 01:23 AM
LawnSite Senior Member

Join Date: Apr 2009

Location: Eastern Ontario

Posts: 350
Cedar Lodge Farms photo/video thread
---
Hi there,
I am new to this forum and am really enjoying going through the threads on the site. Keep up the good work.
My name is Warren, I am just in the last week of classes before finishing up University studying Agricultural Economics. Once done, I will be farming full time on our 3000ac farm in South Eastern Ontario, Canada. We primarily grow corn, however, also have a sizable acreage of soybeans. We grow a bit of wheat to supply our beef feedlot with straw as well. We are a family run operation that also employs 3 full time guys and a variety of part time and seasonal employees for the busy seasons.
I have been keeping a photoblog for the last 3 years now and have close to 10000 photos and hundreds of video clips of our operation. I try to be as detailed with the blog as I can, while still explaining things in basic easy to understand terms for those that don't have the ag background I do. I update it as often as I have relevant information to do so with and have gotten many positive reviews of it. I hope you enjoy it as well.
http://www.cedarlodgefarms.com
That is our farms website where I compile all the photos and videos in a blog format. The site is very dialup friendly, so don't let a slow internet connection discourage you from checking us out. All the photos are in thumbnail form on the site, but with a simple click of your mouse they can be blown up (on a different tab/page) for you to view them in full size.
I take great pride in our farm and love to talk about it, so please, don't be afraid to ask questions, or make comments and commentaries on what we are doing and why we are doing it.
I'll introduce you to our fleet.
To make it suspenseful I'll start at the bottom and work up in hp.
The smallest, our lawn mower. A Kubota LG1860 Diesel. I think it has 18hp. I got just a bit too close to the wet field and slipped off the edge. Oh well.
See dirtman, you're not the only one that likes the mud. HEHE.
35hp Kubota L175 This tractor is only used for one thing on the farm, moving bales inside of dairy barns for storage where we could otherwise not get them.
45hp White 1270. This tractor is our main utility tractor. It is great for moving wagons around the yard, doing light duty pto work and is great for haying.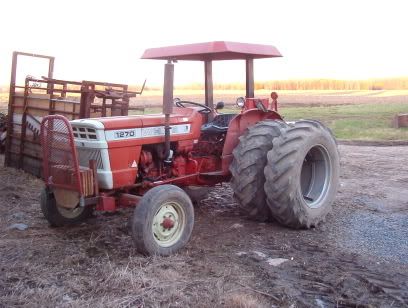 60hp White 2-60 This is our oldest tractor and with over 25000 hours it looks it! This tractor doesn't get a lot of work anymore. It is basically a yard tractor now doing light duty pto work. In the spring it does get some use pulling fertilizer wagons around.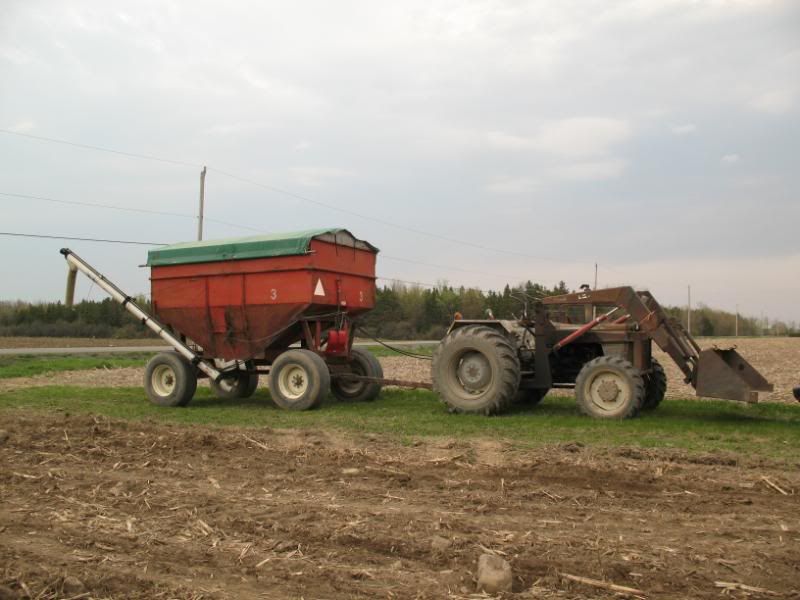 70hp JD 6110. This is our main feedlot tractor. It cleans the barns once a week as well is used in basically all parts of filling silo. The tractor is used quite often in the yard with the loader if something needs to be used. It is a very versatile tractor.
95hp JD 6200. This is our main tractor. There is rarely a day that goes by that this tractor does not move. It is small enough to be considered a utility tractor but has enough hp to tackle larger jobs as well. It is used in almost every job from planting to harvest.
130hp TV-140 This is probably the most unique tractor we own. It is a bi-directional tractor, meaning, the operators station can be turned 180 degrees and the tractor drives just as easily in either direction. It is used as a heavy loader most of the time. It was purchased to pick stones ahead of the planters with a stone bucket.
135hp NH TS130A This tractor was purchased in the spring of 2008 and has really grown on us. It is a 2wd but it does pull exceptionally well with the duals on. This is one of our planter tractors and pulls the 8 row corn planter all spring. Bales hay and teams wagons of grain in the fall.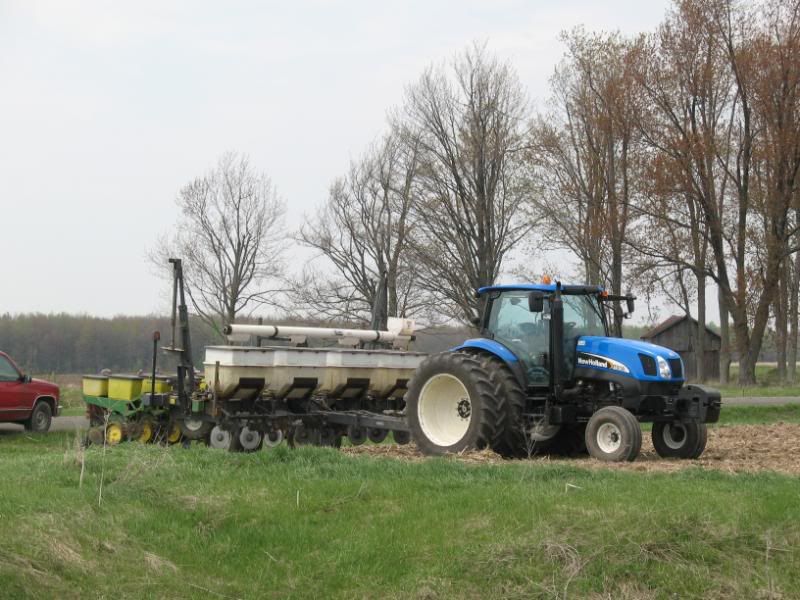 180-250hp NH T7060 Also bought in the spring of 2008. This tractor is the lighter of the 2 and is used for seeding, NH3, and teaming wagons. The tractor has the 50kph transmission and flies on the road as a result. A lot of hp with an excellent cab layout. Easily the best tractor on the market in its weight class! There is a reason it was the 2008 Tractor of the year.
180-250hp NH T7060 Yes we have 2 of them. This one is 1.4 tonnes heavier than its twin. This tractor is a work horse. A tillage tractor. Built to get that power to the ground. It pulls a 32ft field cultivator in the spring, and a 6 furrow plow in the fall. Fills all the silos and relaxes the rest of the time.
The reason for the wide spread of hp is because of the computer. 180 at the pto, 250 on the dyno at max torque with the computer run power boost.
230hp JD 8200 This tractor was recently retired from the tillage jobs when the T7060 was purchased. Now it is a planter tractor. This year it ran the 16 row corn planter, put on NH3 and pulled a 28ft end dump trailer all fall. It is getting old so it was time to give it lighter duty jobs.
230hp JD 8440 This tractor is an interesting one. It is ugly, hard to drive, but just won't quit. We run it on singles all the time. It doesn't get a lot of tillage work. It is hooked to a manure spreader almost all year long but does run the grain cart in the fall to keep the combine moving.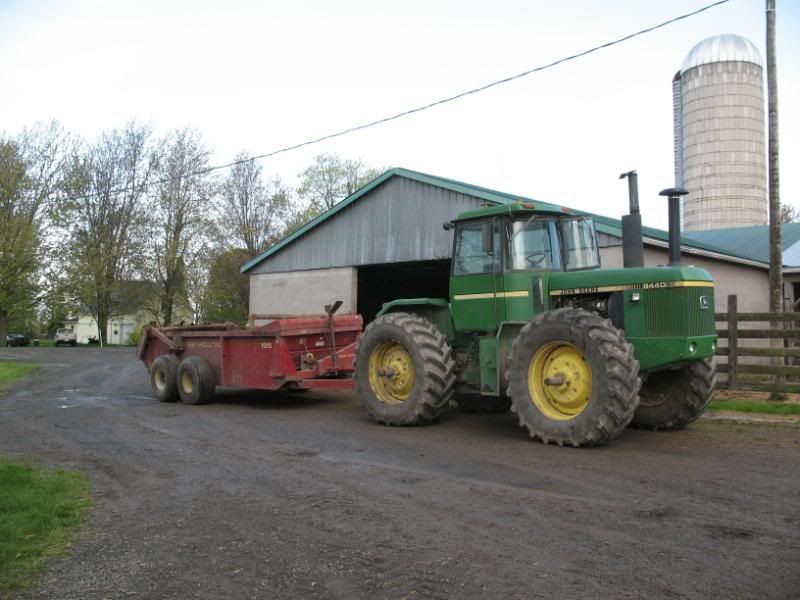 On to the big girl
400hp Caseih 9250 The workhorse of the farm. The bulk of the tillage work is done by this tractor. It pulls a 54ft field cultivator in the spring, and a 8furrow mold board plow in the fall. It has been a great tractor and is scheduled to be re-painted this summer. It will likely be demoted in the next few years from something bigger and newer. An Steiger 485HD perhaps.
That is it for the tractors.
Sprayer: Eagle 8100 with 80ft boom and 850gal tank.
Forage harvester: 32 year old JD 5440. It is getting tired, will likely be replaced soon.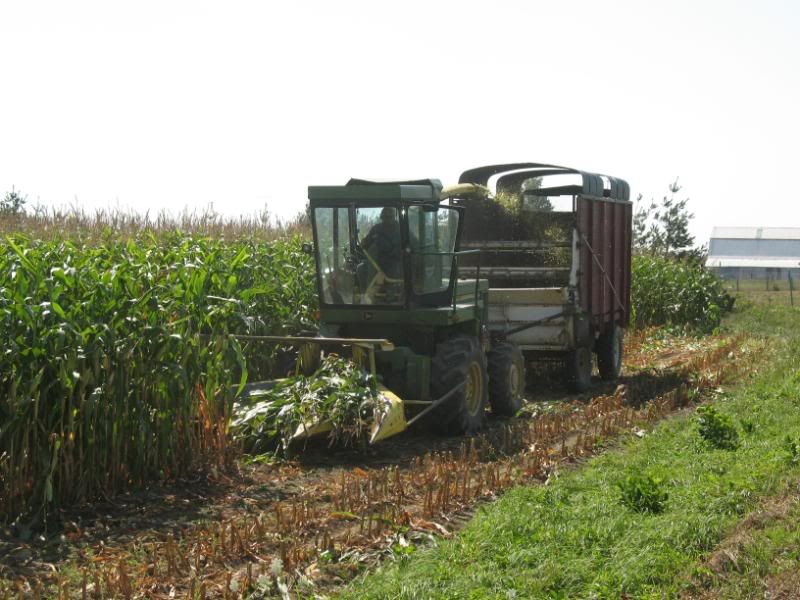 Combine: 2003 Caseih 2388. 30ft flex head and 8 row corn head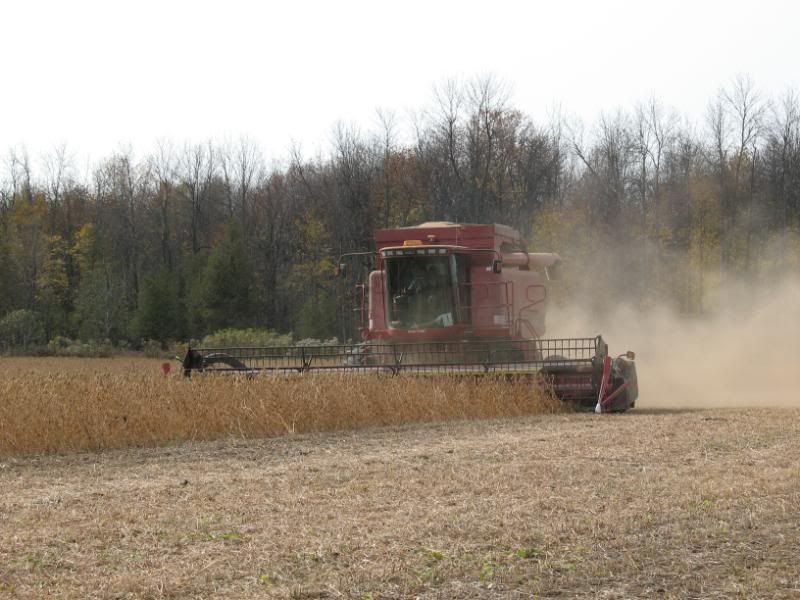 A recent addition to the farm is the land clearing one. Land is getting to be very expensive in this area and farms don't come up for sale very often. So if we can't expand outwards we need to expand from within.
CX210 excavator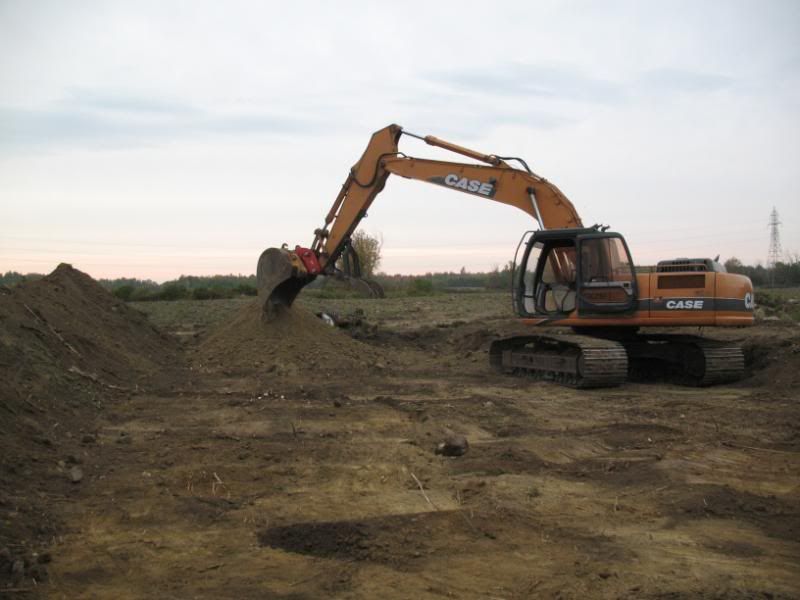 D5M XL This is a new addition to the farm in the last month. We have a pin on rake for it to help speed up getting the cleared land ready to plant as fast as possible. Every farm needs a dozer right?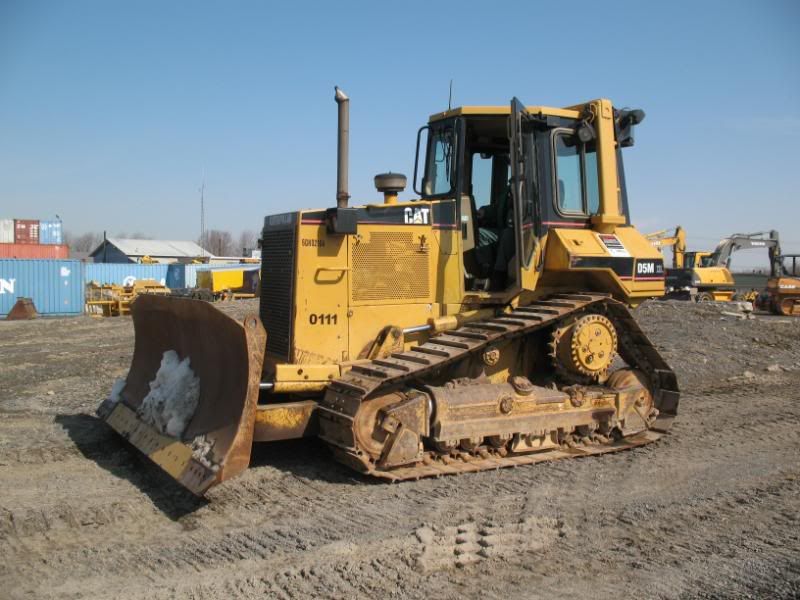 We also have a semi to haul our own grain to the end user. Volvo Autocar with a Custom 40ft end dump.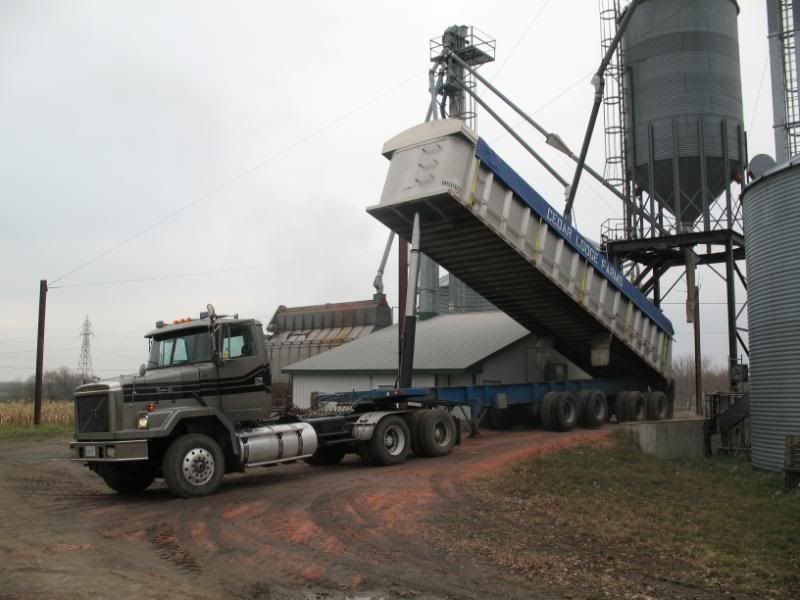 The truck hauls to and from our commercial grain elevator.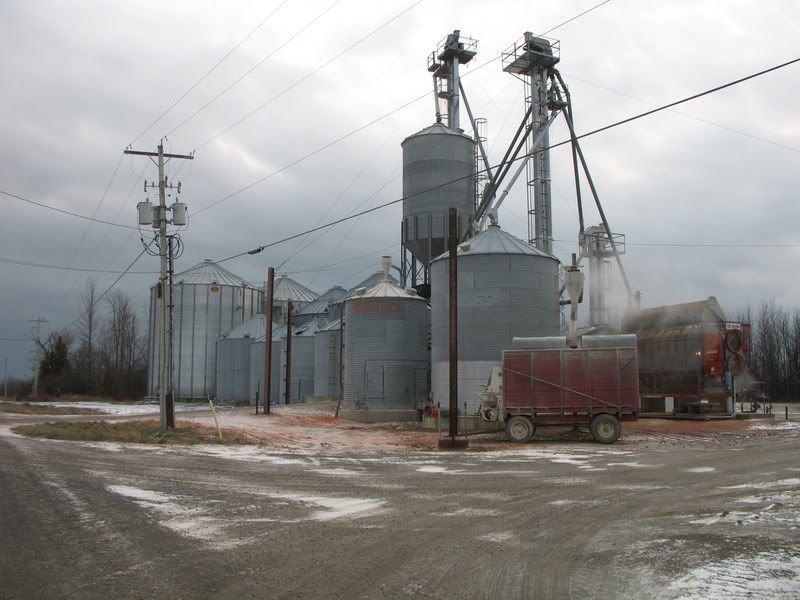 Also, as well as the website, this is my youtube channel.
http://www.youtube.com/user/Farmerknowsbest
Thanks for taking the time to look over this thread. I hope you'll do the same with the website and photoblogs.
Warren
Posting Rules

You may not post new threads

You may not post replies

You may not post attachments

You may not edit your posts

---

HTML code is Off

---
Layout Style: