06-22-2009, 05:39 PM
LawnSite Senior Member

Join Date: Jul 2008

Location: Knoxville TN

Posts: 542
What are my odds?
---
We moved to our new home 2 years ago. The previous owner had pretty much let the crab grass & weeds get the better of him. Had a soil test done that came back 4.9. The last 2 years I've been amending the soil per the extension offices recommendation.
Last July I tried to kill off the Bermuda in a 14k sqft area ( I have 2 acres) of the front yard with the intention of re-seeding with a bg/fescue mix that fall. My GF threw a fit as she liked the Bermuda even though that area was 90% weeds & 10% Bermuda. So I told her I would re-seed with bermuda this spring after I got the lawn leveled a little bit.
It is mid June here in E. Tennessee & we are now getting married here at the house in Sept. She does not want a dead lawn.
So I told here I'd plant this week & if it comes up it comes up but not to get her hopes up.
So what are my chances at getting germination this late?
Her's a pic of the area I'm talking about.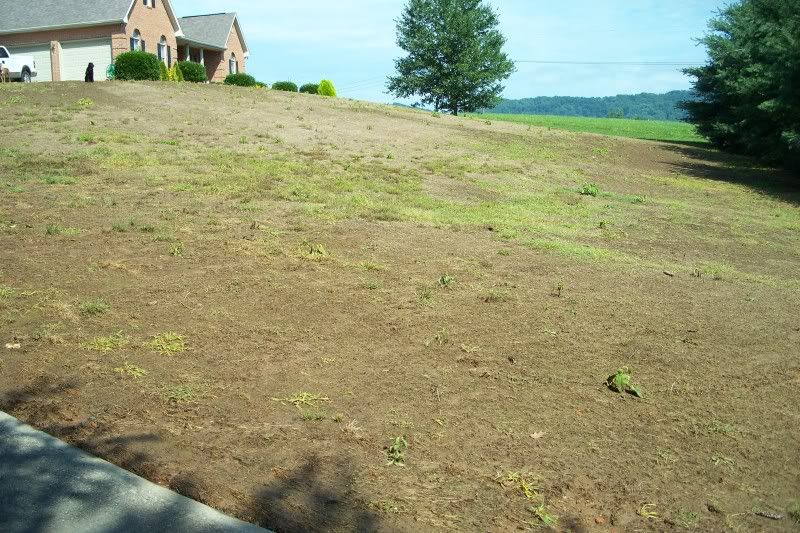 Thanks........Scott
Posting Rules

You may not post new threads

You may not post replies

You may not post attachments

You may not edit your posts

---

HTML code is Off

---
Layout Style: