12-03-2009, 05:07 PM
LawnSite Platinum Member

Join Date: May 2008

Location: Raleigh, NC

Posts: 4,363
Quote:
Originally Posted by
Gravel Rat
Does that lake ever see waves I know lakes can see rough water like we see out here on the West Coast. I have watched the discovery channel and the seas on the great lakes can be pretty fierce. I imagine is any lake is large enough the weather will have a effect on it.
We couldn't put rock in the water like that if its been crushed that rock you used looks like its round river rock.
For anybody that has never worked on the water it takes alot to get used to running a machine on a barge. As you swing things shift around and rolls so if your not carefull you can roll and go too far. When your lifting something out of the water its boyant but soon as it brakes the surface and you have all the weight the barge will really roll.
Make sure your hatch covers are bolted down or closed tight when the barge deck starts to go awash. A little barge like the one BM has can flip real easy if your not carefull. Fresh water doesn't have the boyancy as salt water so you have less load carrying capacity.
It is fun walking a heavy excavator onto a barge as you walk onto the ramp it pushes the barge down you can see it sink down. Barge ramps are hinged and all the weight of the machine is suspended on the ramp as you walk on. In some areas if the barge slips out and pulls away from the shore the machine can slip off the ramp and end up in 50-150 foot deep water. You better hope you can swim you never have the door closed or have the seat belt on your ready to bail at anytime.
You need good deadmans on the shore to hold the barge too the shore to keep it from pushing out. The tugboat doesn't always have enough power to push.
You havent see anything untill you seen one of these babies walk onto a flat scow they weigh upwards of 100 tons. Walk one on a barge the barge MUST sit on the beach as the machine walks on. If the barge doesn't sit on the beach the barge will go under water.
www.youtube.com/user/jusportel#p/u/7/3hnyfz_MEdY
Since when were you in marine construction? Looks like he has spuds on his barge so there's no need to tie off.
__________________
Chris
"Life is like running a motor grader. You have to look down the road and plan for whats ahead and not down at your feet!"
http://www.youtube.com/user/letsdig18
New facebook fan page
http://www.facebook.com/pages/Letsdi...3541611?v=wall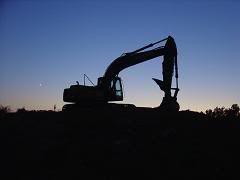 Posting Rules

You may not post new threads

You may not post replies

You may not post attachments

You may not edit your posts

---

HTML code is Off

---
Layout Style: