04-08-2012, 09:12 PM
LawnSite Senior Member

Join Date: Nov 2007

Location: spring city, pa

Posts: 265
Make your website social media literate!
---
As you probably already know, social media is becoming larger and larger every day. Social media sites can greatly influence the exposure of your lawn care or landscaping website. Think about it, if just one person shares you website on Facebook, statistically the average Facebook user has 245 friends, that is 245 people seeing your site link on Facebook, and best of all, it is endorsed by their friend sharing it!
So, you can see Facebook and other similar sites can spread the word easily. But it does not stop there! You have to convince those people that saw your link to your website on their newsfeed to actually click it and visit your site.
This is where a little marketing knowledge comes into play. You want to convince the person to visit your site with only 1 image and a few words. Easier said than done. That's where you will have to get creative.
So how do I control what is shown when someone shares my website on Facebook?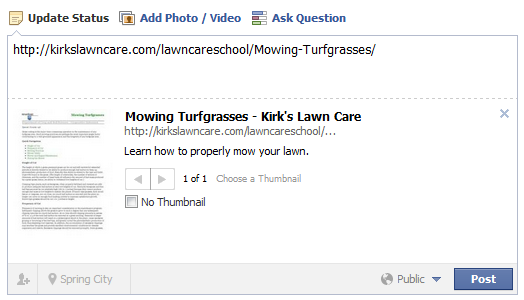 The above image shows what will be shared to Facebook friends when someone types in my website URL.
How did you do that?
Facebook and other social media sites search your site for special "facebook tags" that tells facebook exactly what image and text to display.
All you have to do is copy and paste some code into each webpage of your site.
This is the code I added to my webpage to produce the content and image for Facebook:
Code:
<meta property="og:title" content="Mowing Turfgrasses - Kirk's Lawn Care">
<meta property="og:type" content="company">
<meta property="og:url" content="http://kirkslawncare.com/lawncareschool/Mowing-Turfgrasses/">
<meta property="og:image" content="http://imgv2-2.scribdassets.com/img/word_document/72104900/164x212/35da3aa00c/1320803032">
<meta property="og:site_name" content="Kirk's Lawn Care">
<meta property="og:fb:admins" content=" XXXXXXX">
<meta property="og:description" content="Learn how to properly mow your lawn.">
<meta property="og:street-address" content="XXXXXXXX">
<meta property="og:locality" content="Spring City">
<meta property="og:region" content="PA">
<meta property="og:postal-code" content="19475">
<meta property="og:country-name" content="USA">
<meta property="og:email" content="XXXXX@kirkslawncare.com">
<meta property="og:phone_number" content="XXX-XXX-XXXX">
To create your own customized code for your site, go to:
http://www.metataggenerator.org/open-graph-meta-tags/
NOTE: There is a difference between the regular meta description you probably already have on your site and the og:description. The traditional meta tag is only used in search engines (google) if the og:description is present. If you do not have a og:description tag on your site, facebook will use one of your images on that page at random and use your meta description. The advantage of differentiating these is that one can be specifically aimed towards social media with a convincing reason why they should go to your site.
I understand this may be way over some of your guys head and skill level, but if you have any questions or need further clarification, don't hesitate to ask/
Posting Rules

You may not post new threads

You may not post replies

You may not post attachments

You may not edit your posts

---

HTML code is Off

---