09-11-2013, 05:22 PM
LawnSite Member

Join Date: Oct 2011

Location: Holland, MI

Posts: 58
Exmark mower cutting issues
---
I have an eXmark 60" with Ultra Cut deck and an Ultra Vac system. I have been dealing with a "brown strip" issue all summer and I've done EVERYTHING possible to try and fix it and nothing seems to help. Here is a list of all the things I've tried:
- Adjusted scalping wheels and didn't change anything.
- Checked to make sure deck was not bent.
- Check tire pressure and actually swapped both tires to see if that was an issue.
- Both front tire bearings have been replaced, no slop at all.
- Checked spindles and swapped two spindles to see if that would help and did not.
- Iv'e leveled the deck probably 8 times. Both blade tips measure exactly the same height on both sides.
I have a feeling it is getting "too much suction" if that is even possible thus cutting the outside stripe shorter because the grass is standing up higher? Is it something with my Ultra Vac? It still seems to do it when the bagger is off but not near as bad, if at all. The weird thing is if you get down and actually look at the grass closely it doesn't appear to be cut shorter in the spot where the strip is. Any ideas?? This one might take a pro!
In the pictures look for a brown line on the left side of the pass (right side of deck)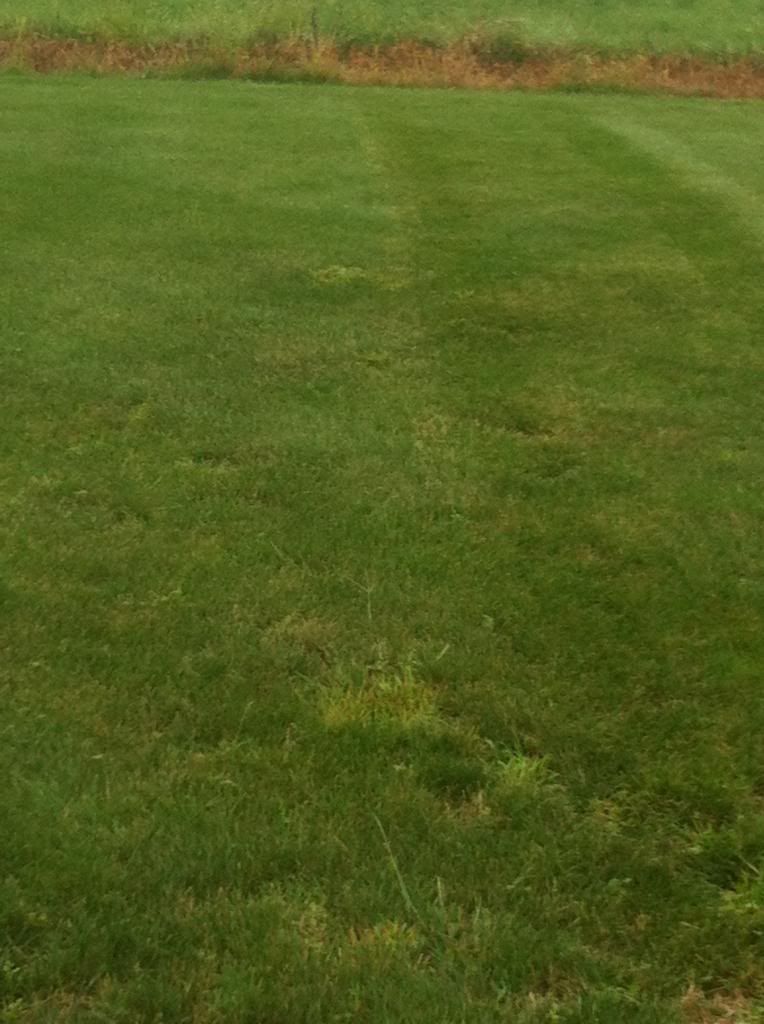 __________________
www.premierlawncaremi.com
2003 Chevy Duramax 6.6 w/ 8'-2" BOSS V
1999 Chevy 6.5 Diesel 1 Ton w/ Dump and Western Plow
Exmark 60" ultra cut w/ Ultravac
2012 Redmax handhelds
Solo backpack sprayers
PermaGreen Centri Spreader/Sprayer
16' trailer
Posting Rules

You may not post new threads

You may not post replies

You may not post attachments

You may not edit your posts

---

HTML code is Off

---
Layout Style: