04-06-2014, 12:06 AM
Sponsor

Join Date: Aug 2008

Location: Westchester County New York

Posts: 164
You and I are thinking identically.
I think the 100 has it uses, but hands down, the 200 wins. Very often I've used the right side spreading more heavily to my advantage.
Have you used to 100 with the optional side diverter attachment? It quite slick for shrub beds and side dressing in vineyards and crops.
We have both models but we use the the 200's most of the time. Here's a pic of an 80 yard job we did last fall in 7 hours...11.5 yards per hour.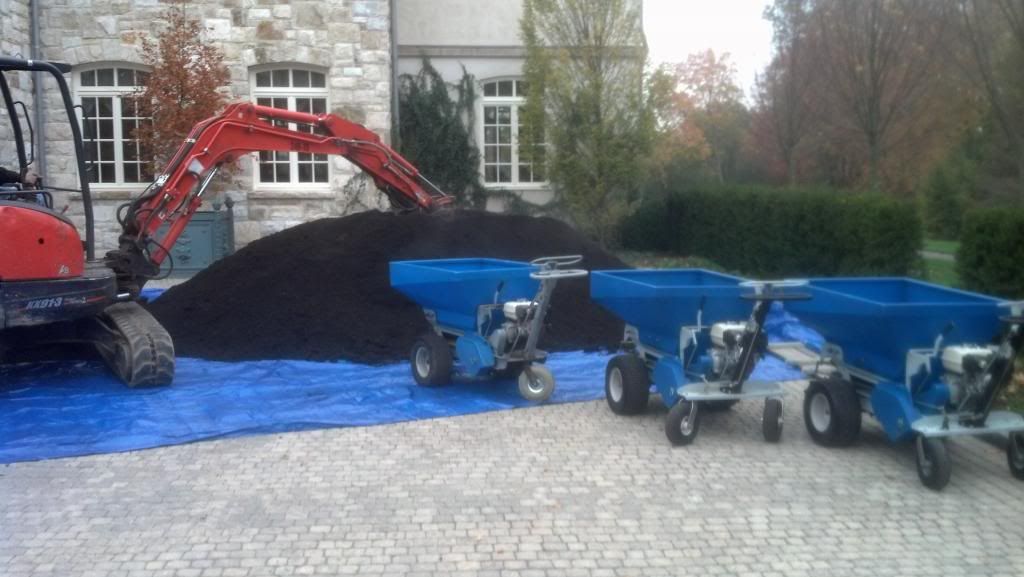 One machine operator, 2 others spreading.
We had four 20 yard loads because of a tight drive. It would have been faster if a bigger truck could have made it through. At least there was time for a few breaks.
Nice, clean in and out.
04-06-2014, 12:45 AM
LawnSite Fanatic

Join Date: Sep 2007

Location: Rochester, MN

Posts: 8,611
Wasn't too much more to upgrade to the Eco 200, maybe $300 or so. Just decided to bite the bullet and get the best one.
__________________
7x14 Stealth SE Enclosed with 48" side ramp
2013 Gravely Pro Turn 260 with Kohler 26.5 EFI
08 Toro Z400 48" deck, 21HP Kaw with EZ Vac twin bag
09 Exmark Turf Tracer HP 36"
21" Toro SR4 Super Recycler
Stihl KM90 Kombi w/ straight shaft trimmer & tiller heads
2 Husqvarna 125B Blowers
Turfco XT5 Aerator
Turfco LS-22 Overseeder
EcoLawn 200 Applicator

I can do all things through Him who gives me strength.
Philippians 4:13
Posting Rules

You may not post new threads

You may not post replies

You may not post attachments

You may not edit your posts

---

HTML code is Off

---
Layout Style: