10-04-2007, 07:27 PM
LawnSite Silver Member

Join Date: Nov 2006

Location: Indiana

Posts: 2,489
Kawi FH451V Electric Problem
---
I have a Gravely 34Z with 350 hours on it. It has the 15 HP Kawi. A while back the battery went dead and the mower would not start. I went and bought a new battery and it ran for a while, but the battery just slowly went dead again. It must be the thing that keeps the battery charged.

What should I look for? Thanks for any help.
10-04-2007, 07:58 PM
LawnSite Fanatic

Join Date: Apr 2005

Location: Show'n my truck off !

Posts: 11,025
First, Check for battery voltage to the single plug connector on the voltage regulator with the key in the run position. If you have no voltage to the regulator check for a blown fuse or faulty ignition switch.
If you have voltage to the regulator perform the "Unregulated stator" test as below, If the stator checks out as being good you can move to the regulator test to just to be sure the regulator is faulty.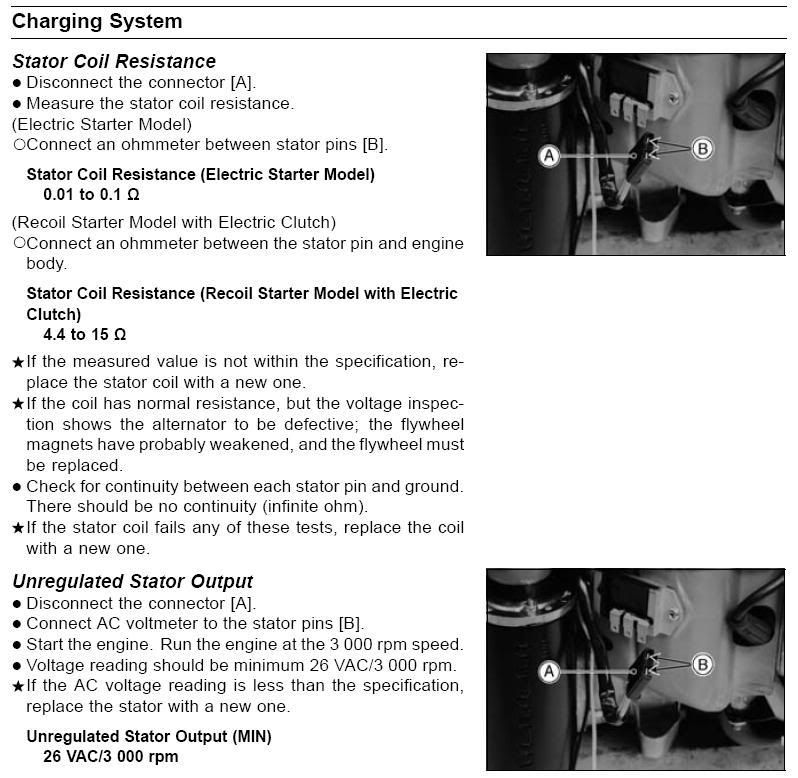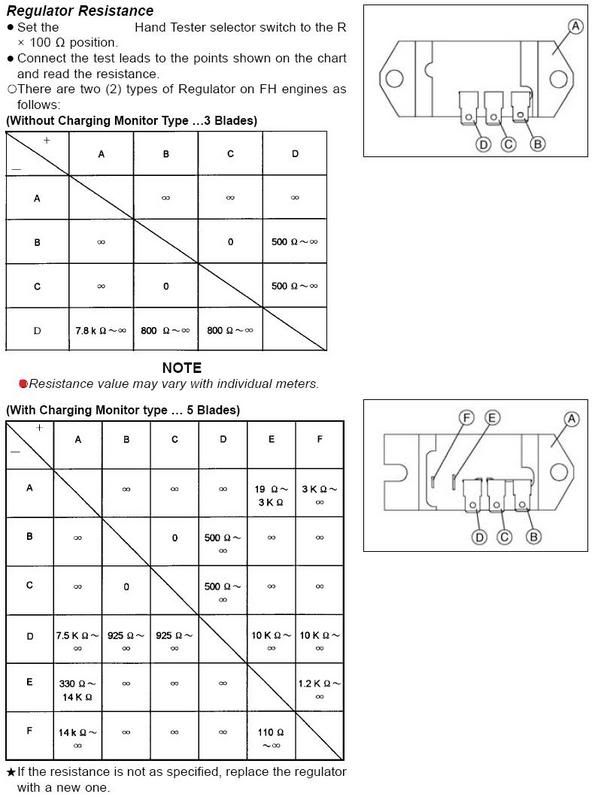 __________________
Quote:
Originally Posted by
piston slapper
You never learn anything until you admit you don't know it all...
"Why go out preserved when you can go out beat up, worn out, sliding in sideways screaming, Holy Sh!t What A Ride" !!!
10-05-2007, 12:38 AM
LawnSite Silver Member

Join Date: Apr 2004

Location: Tryon NC

Posts: 2,155
There are so many threads about battery charging it needs its own forum
__________________
"DEFECTIVE OWNER/OPERATOR NOT COVERED UNDER WARRANTY"
Posting Rules

You may not post new threads

You may not post replies

You may not post attachments

You may not edit your posts

---

HTML code is Off

---
Layout Style: