07-12-2008, 11:49 PM
LawnSite Senior Member

Join Date: Apr 2007

Location: Out mowing a lawn

Posts: 370
My first new pond
---
Just some pics of a pond My Wife and I made today.
Nothing to fancy The rocks are recycled from a friends old raised flowerbeds.
The beach gravel from a number sign I did last year in the front yard.
The pond liner is an old preformed liner someone was trashing at the curb one garbage day.
The pump I bought on sale two years ago for my Wifes Birthday.
So total cost in cost of project $25.00 for on sale pump .
Spending a warm sunny day with my darling wife doing what I like to do
PRICELESS
.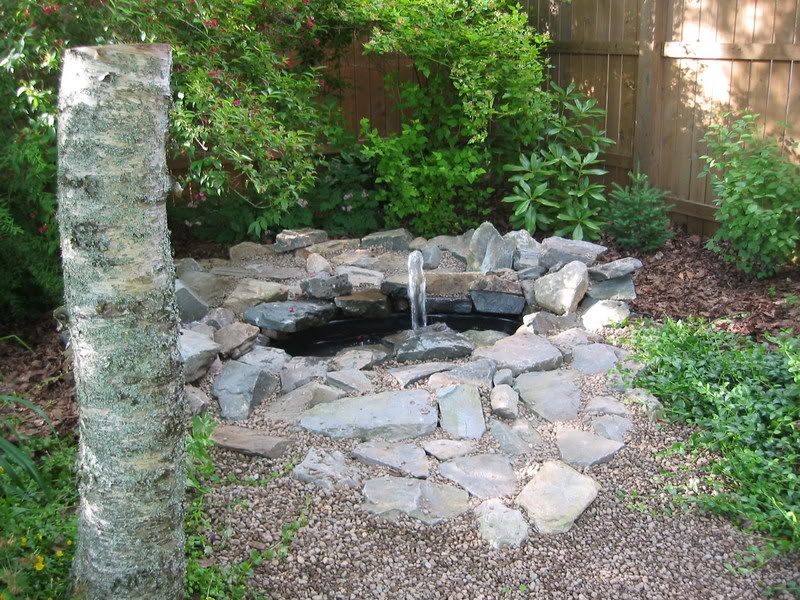 __________________
Proudly Canadian
Duckfoot Enterprises Inc.
Home of
Ducke's Lawn Care.
Ducke's Seasonal Decor.
07-17-2008, 04:53 AM
LawnSite Fanatic

Join Date: Dec 1999

Location: Beaverton, OR

Posts: 6,818
That's kinda cute. For what you spent, that's probably about the best you could hope for.

You could probably make something 300% better if you used a real liner, underlayment, better pump, and nicer rock.

But that ain't bad. Nice first water feature. Given your budget, it's even more impressive.
__________________
Jim Lewis
Lewis Landscape Services - Oregon
www.lewislandscape.com - Portland Oregon Landscaping Company
landscape design Portland Oregon
07-18-2008, 02:30 PM
LawnSite Member

Join Date: Jan 2003

Location: Hutchinson, Ks

Posts: 115
Great little pocket garden feature. Great use of recycling old materials.
Posting Rules

You may not post new threads

You may not post replies

You may not post attachments

You may not edit your posts

---

HTML code is Off

---
Layout Style: