07-14-2009, 11:51 AM
LawnSite Member

Join Date: Jul 2009

Location: Roswell GA USA

Posts: 51
Introduction
---
Hello!
I'm a homeowner with a "new" yard and have come here to get some advise on landscaping. I'll tell you my story:
We bought this home in 2007. It was built in 1994 and sits on 2 acres. The front was well established, though boring, when we moved here. The back yard however was non-existent. It was pretty steep drop off into a heavily wooded forest area. There was a nice trail cut through the woods down to a creek that runs through the back of the property. The PO installed some nice swings along the trail and a nice seating area near the creek along with a make shift bridge over the creek.
Being as we have 2 young children and two dogs, we decided to "build" a back yard for them. Taking the advice of a friend, we hired company to come in and do it. This company installed a roughly 12' high 72' long timber retaining wall about 48" from the rear of the house. Several trees were removed and the area was filled with good ole Georgia red clay. A fence was installed as well as a set of steps leading down to the trail. Bermuda grass was laid down as well as an in ground watering system front and back.
It was not a level yard by any means, but it was secure with a small 12" wide flat area in the back by the fence. In 2008 it was obvious that the yard had settled MUCH more than we felt it should have. We called the company back, and they returned to remove the grass, add more fill, reset the fence and reinstall the grass. Again, all LOOKED find but we were not very happy with the overall results, but it was something we could live with. Total cost for this work was over $38,000. Not money well spend in hindsight.
Again early this year, we noticed that the yard had again settled to the point that the fence was crooked. We also noted that the sprinkler system didn't work in the back yard. We attempted to contact the company again. It seems that they are long gone. All attempts to contact the owner failed.
Knowing that a lot of work would need to be done, I called another, highly recommended company to come take a look. The owner's first reaction set me back I must say. I was not expecting to hear what he was going to tell me. It seems that the first company built the retaining wall incorrectly. They used only 1/3 of the proper amount of dead men needed and the anchor wall had failed. The whole 12' high, 72' long wall was about to fall off into the woods! He also refused to touch the yard until I had an engineer look it over.
The fact that he suggested this sold me on using his company. I contacted a structural engineer. He in turn backed up what the new landscaper had told me. His actual wards were "I'm surprised this wall is still standing." It had a 3', yes THREE FOOT bow in it and bulge that started about 8" from the ground and extended up 4 feet. Most if not all of the dead men were torn out of the face wall. The ones that weren't torn out were broken just behind the wall. All of the drains were collapsed and the fence was actuall bent, not just sagging.
Upon his advice, I contacted an company that installs vertical anchors. Their engineer came out, took a look and gave me an estimate for saving the wall. Being as I had never heard of this kind of work, I researched it and the company. The company was outstanding. They do very good work. I was NOT expecting the cost of it however. Just to anchor the wall was going to cost us another $28,600. Even if we saved the wall, we still wouldn't have a great yard. It was decision time.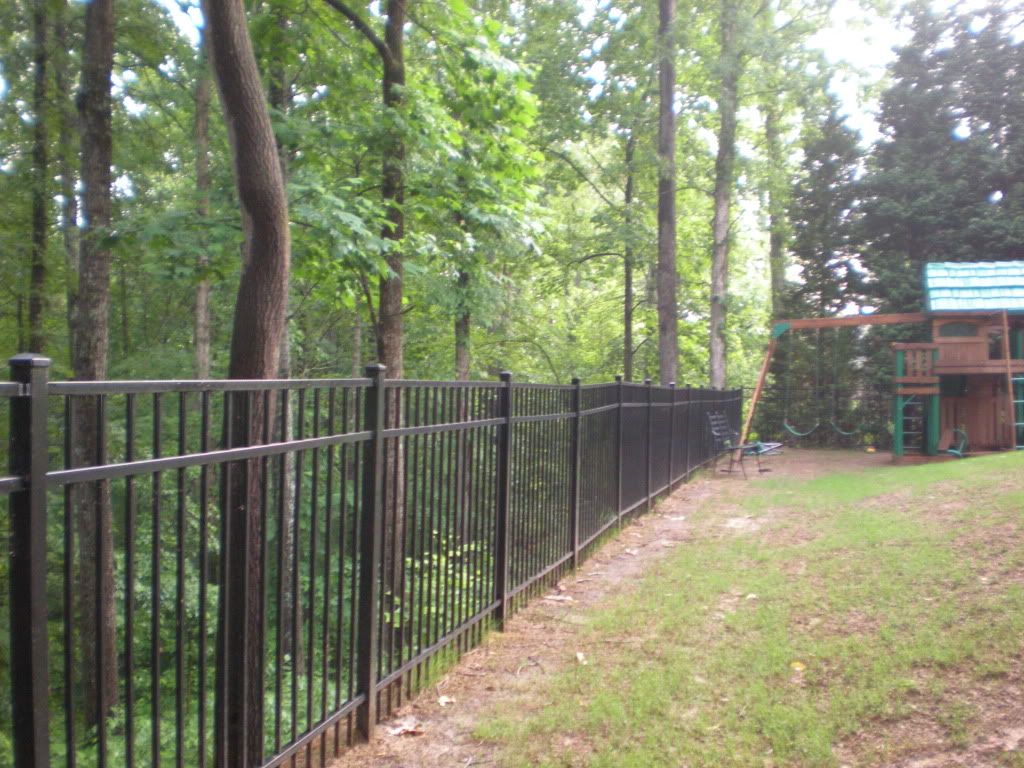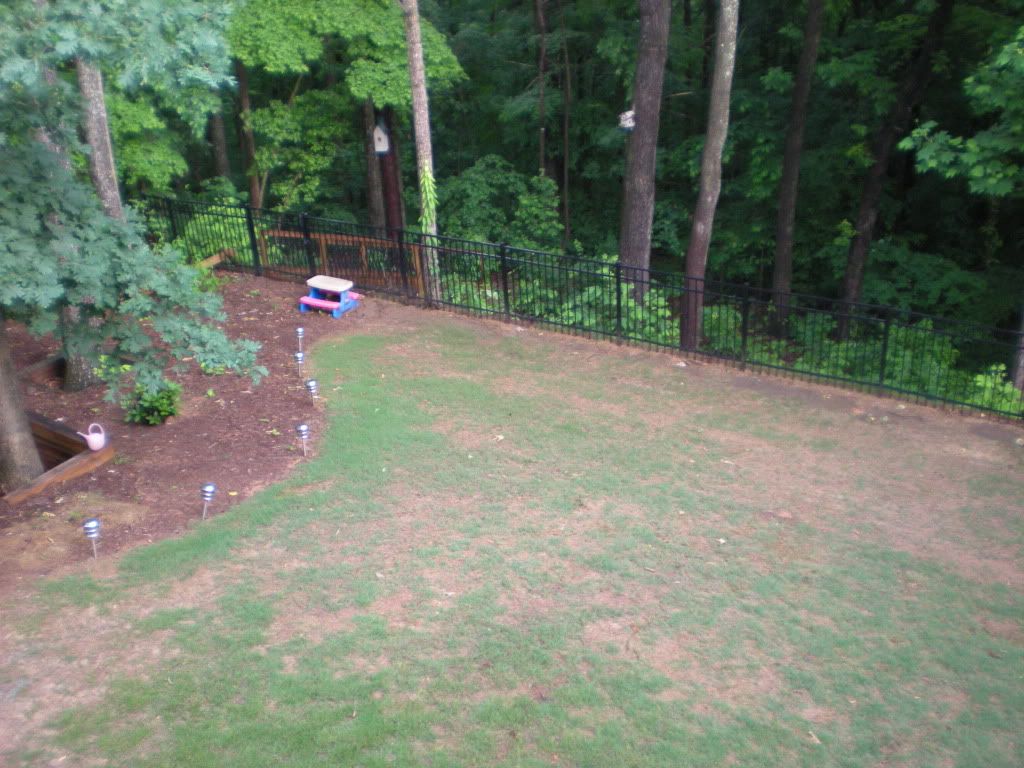 ---
Last edited by T56 Impala; 07-14-2009 at

11:56 AM

.
07-14-2009, 12:16 PM
LawnSite Member

Join Date: Jul 2009

Location: Roswell GA USA

Posts: 51
Sorry, my photography skills are anything but good. Those shot will give you some idea of how bad the yard looked though.
I decided to contact my new landscaper with an idea. The idea was simple, build me a a structurally sound, nice, usable back yard at a minimum cost. The owner, who is also a landscape architect, decide to take the challenge. After several visits and some discussion, he presented me with a plan.
It would start by starting a new 3 tier retaining wall 8' further back in the woods. Each level of the wall would have a planting area on top of it. The overall height of the wall would be increased by two feet. Corners would be turned into 45* angles. The fencing could be reused as well as much of the original lumber. The kids play area would be moved to the wooded area to the left of the property. A secondary boulder wall would be built 8 feet or so away from the house and the grass are would be flat. Big stepping stones would be used to gain access. A seat wall and fire pit would also be installed as well as updated sprinkler system and an electrical outlet near the seating area. The grass is Zoysia
I know, all of this is hard to visualize! So, here are some pictures.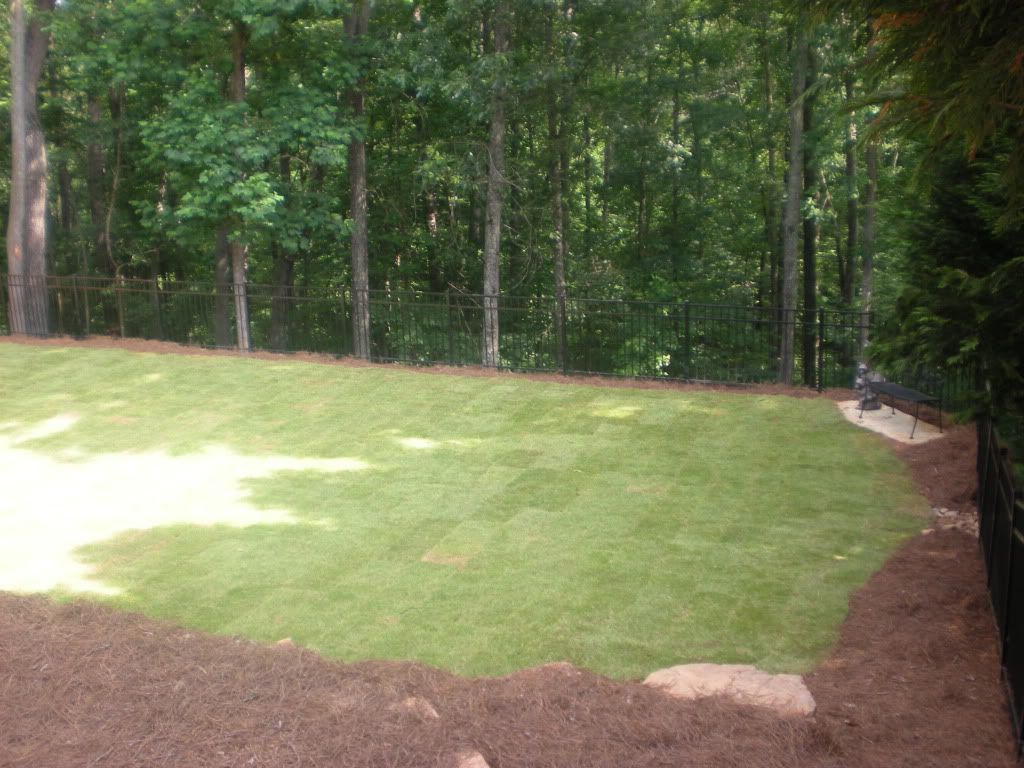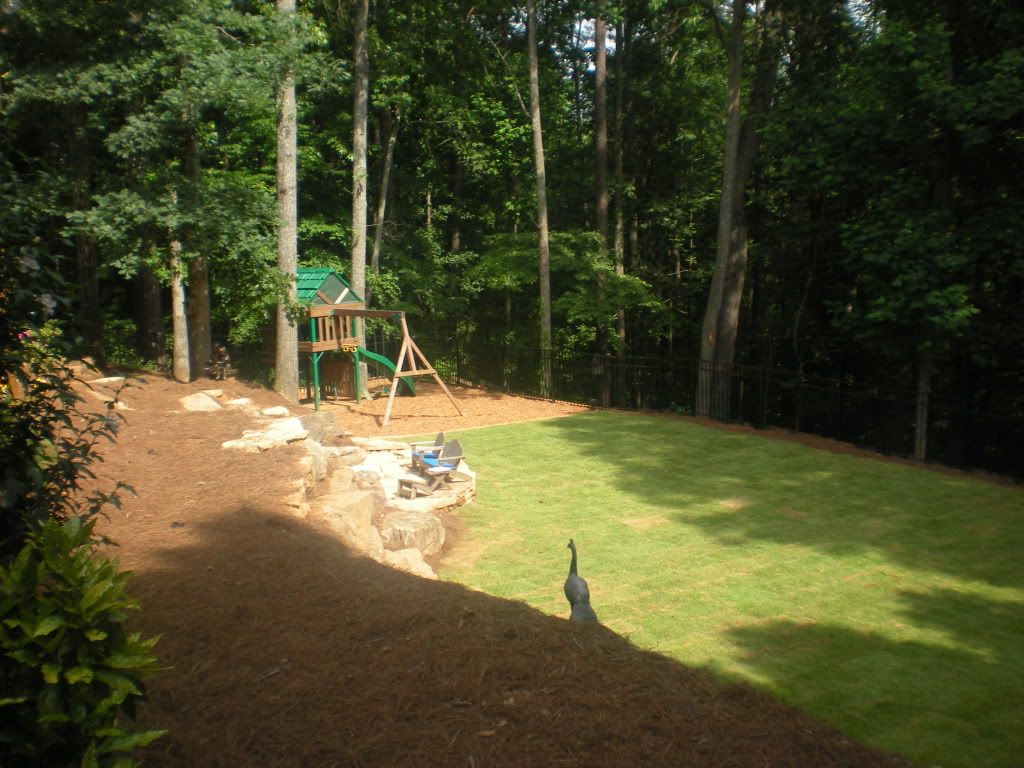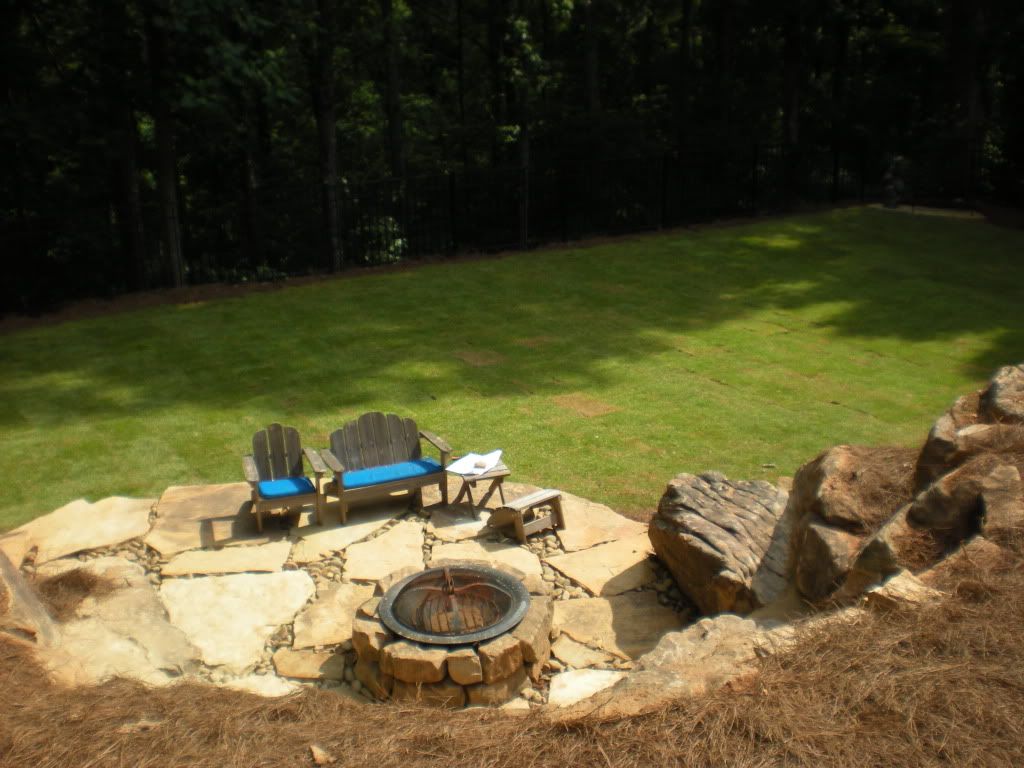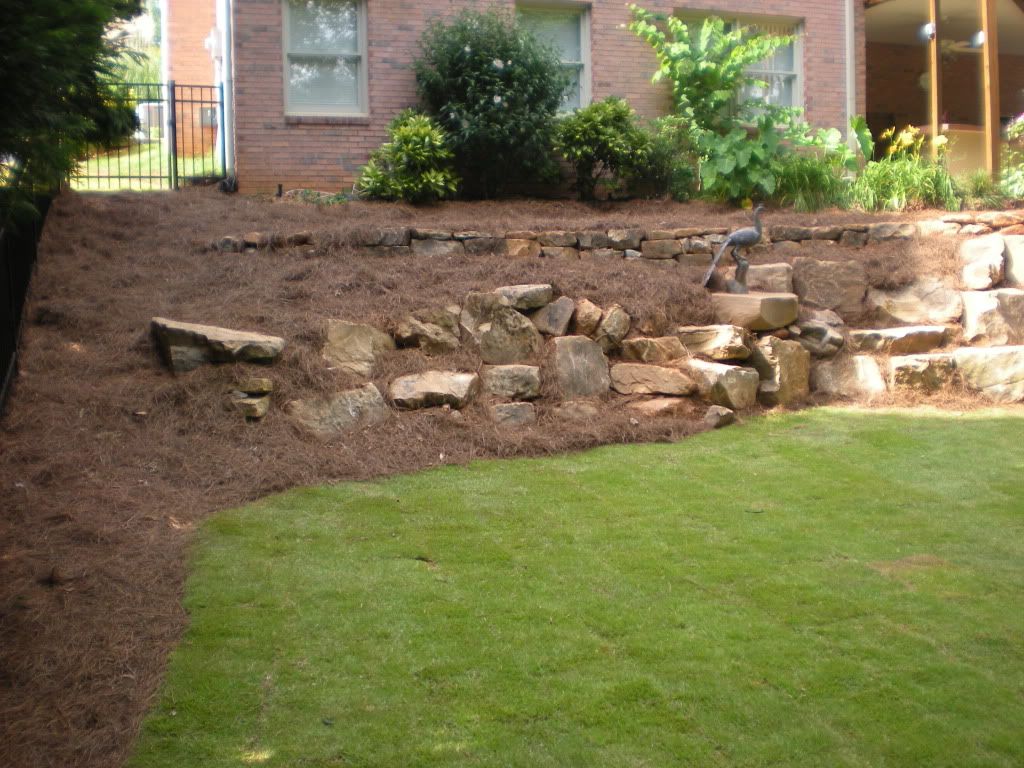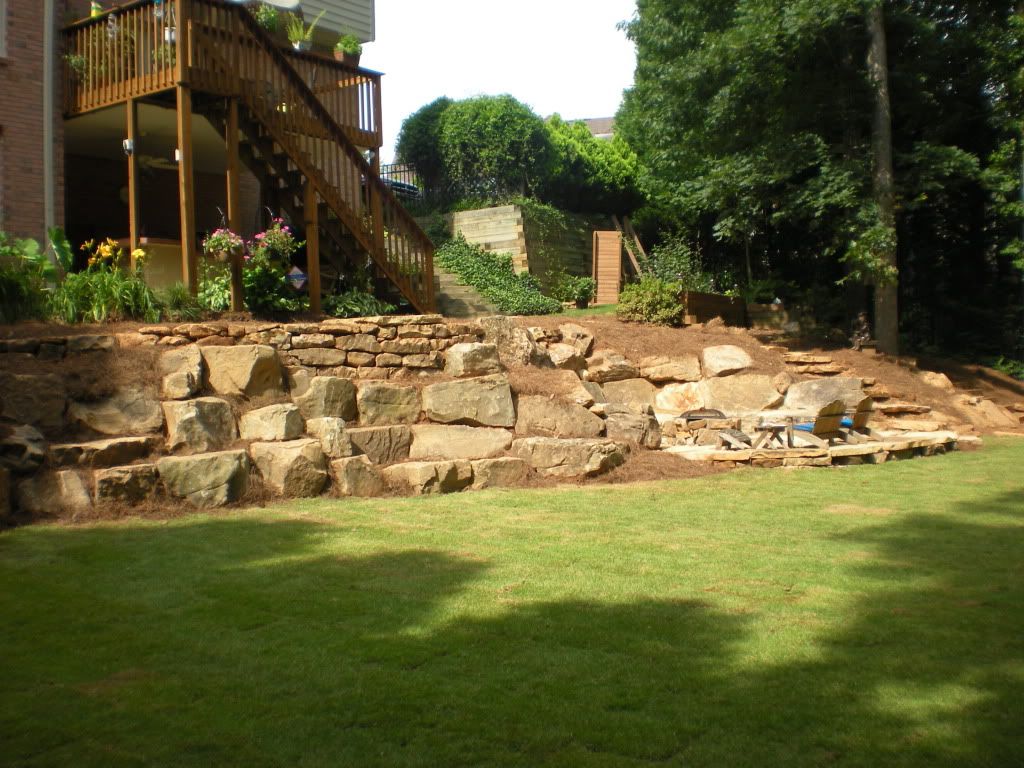 The fire pit pictured is temporary as is all of the pine straw. He will be returning in October to build the final fire pit and install slate chips in all of the non planting areas. There are some other plans in the works for next year including a new, larger deck with steps located in a different area, an outdoor kitchen area with grill, smoker and fridge and outdoor entertainment area with flat screen TV. I just have to pay for all of this work first! Oh, the cost for the rebuild? $42,000.
I letting you all in on the costs involved because I DO NOT WANT YOU TO MAKE THE SAME MISTAKES!!!! You get what you pay for in the end. We are VERY happy with how this has turned out so far. I do have questions about plantings and will be asking them soon.
Posting Rules

You may not post new threads

You may not post replies

You may not post attachments

You may not edit your posts

---

HTML code is Off

---
Layout Style: