04-21-2010, 02:21 PM
LawnSite Platinum Member

Join Date: Oct 2007

Location: Northern KY

Posts: 4,254
Scag pro V sulky
---
Anyone on here using the scag pro v? I seen one of these yesterday, and they look really nice, I really like the single wheel sulky they use on it, looks kinda like a castor wheel assembly with a platform built around it. I may try to build something like it myself. I dont think it would be that hard. How do these sulkies perform though when you are riding on them? Im curious how they handle.
04-25-2010, 04:20 PM
LawnSite Senior Member

Join Date: Jun 2007

Location: Waukesha, WI

Posts: 791
We have one. Will tear the grass up if you back up quickly. Model # is RS-S. Pricey. Have had it a couple of years with zero issues.
__________________
We like orange machines!
04-25-2010, 06:09 PM
LawnSite Silver Member

Join Date: Nov 2007

Location: OH

Posts: 2,284
i use a pro one sulky, the kind with dual casters on the side of the foot platform, i love it and it keeps you in a good position to operate.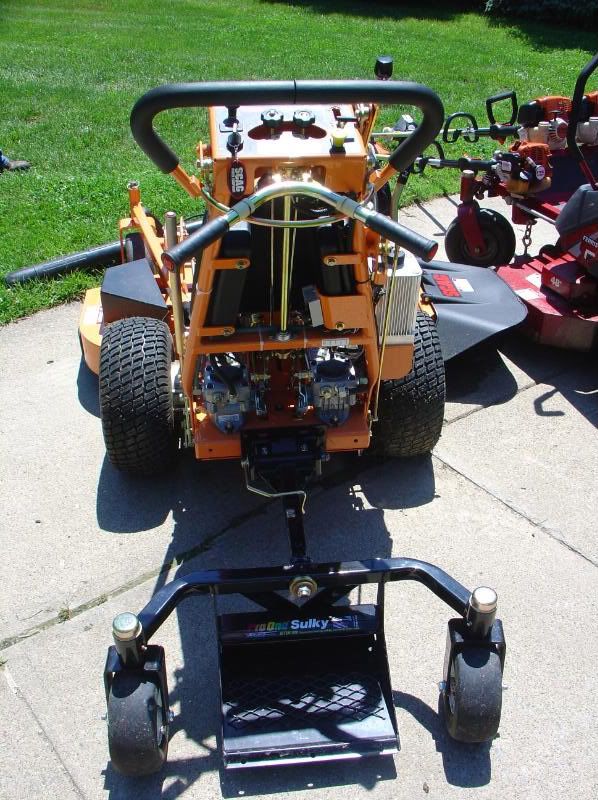 Posting Rules

You may not post new threads

You may not post replies

You may not post attachments

You may not edit your posts

---

HTML code is Off

---
Layout Style: