01-04-2013, 07:12 AM
LawnSite Member

Join Date: Mar 2007

Location: Princeton, IN

Posts: 213
Wow more power to you but I can say by experience too I have two and they are the best out there and the upkeep ain't bad. Just like anything else you want a hunk a junk don't take care of it you want something that will work for 4,000 hours and still goin strong take care of it. Ain't got 4k on mine but a buddy does and she purrs like a kitten.... I've had mine for 6 years ain't had a problem with it yet. I guess its just how you take care of it
__________________
95 Chevy C3500HD 6.5 Turbo Diesel 1 Ton Dually
with 16' Custom landscaping body
2001 Dodge Ram 2500HD 5.9 Turbo Diesel

2009 Walker MTGHS 42" w/ mulching GHS Decks and 62" Side Discharge deck
3 Commercial Grade John Deere Push Mowers
Billy Goat Vacuum
Echo Trimmers:
SRM 3100
SRM 3400
SRM 3400
SRM 3800
Handheld Blower
Stihl Backpack Blowers:
BR 600
BR 600 Magnum
HS 81T Hedge Trimmer
KM 130R KOMBI SYSTEM
with 8 Attachments
01-04-2013, 05:19 PM
LawnSite Member

Join Date: Aug 2006

Location: ohio

Posts: 95
oh wow!
---
ive still got my old one, its a zt100 with the 20 hp command. fantastic for residentials half acre or less. i have both a 42" collection deck and a 48" side discharge deck for it. when this machine is in collection mode its a bit off balance, more so as it fills. doesnt hold a hill as well as id like but will do the job.
still cuts great and vacs as well as the walkers ive used in the past. cut not as good as the walker but close with fresh blades. with the side discharge deck on and the hopper off the back its a different machine. handles much better. invaluable for spring and fall cleanups. it definitely has its place.
fairly certain all the variations of this machine, no matter what name was on it or color it was, were made by the textron company out of wisconsin. its built like a tank. transmission isnt as powerful as the walkers. but again, its a tradeoff as this one is much easier and cheaper to service.
its not a fast machine but its versatile, affordable second hand, and i find it easy to work on. parts have been no problem. just freshened her up this fall with new seat and tires. still cleaned up nearly like it was when i got it.
some old pics: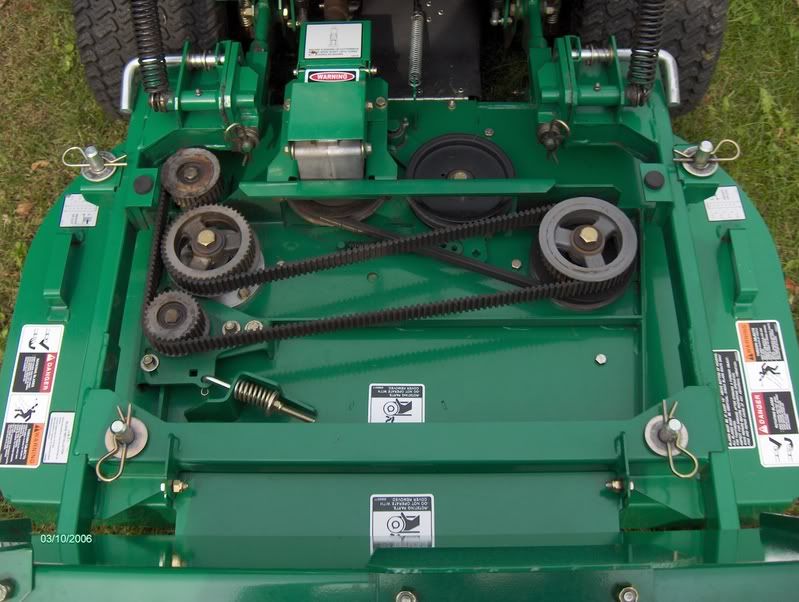 ---
Last edited by Echelon; 01-04-2013 at

05:25 PM

.
Posting Rules

You may not post new threads

You may not post replies

You may not post attachments

You may not edit your posts

---

HTML code is Off

---
Layout Style: