07-26-2012, 07:16 PM
Tornado Salvage
---
Wow! A new forum for sawmills! I'll check it out on a regular basis. I run a Norwood Pro MX34. It is my third mill, and I'm quite pleased with it. My first one was too small. My second one, fully hydraulic, was too big. This one... well you get the picture.
I'm more of a forester and logger than arborist, but believe that
portable sawmills
have a place in the tree care business. I live about 20 miles south of Joplin, Mo, and am still milling lumber from trees that came down in the tornado. For some people, a blown-down tree is all that is left of their home, and they want it cut into lumber that can go into furniture that they can keep as they move on with their lives. I'm sure people in the tree care business must run into similar situations. Here are a few photos.
This is a 44" diameter by 10' long black oak. I figure it weighs close to 6,000 pounds.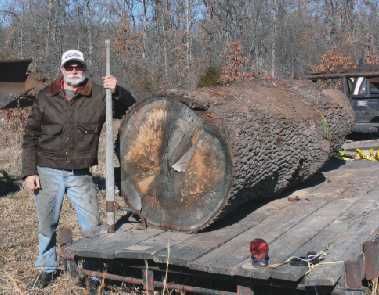 Of course, I get by with a little help from my friends.
This is a salvaged walnut root slab that I sold to a local woodworker.
08-01-2012, 02:30 PM
Hi Dave:

That's a great use of the downed wood from that tornado. What a nice way to keep a sentimental piece of the past. Thanks for sharing the idea.
Posting Rules

You may not post new threads

You may not post replies

You may not post attachments

You may not edit your posts

---

HTML code is Off

---
Layout Style: