03-18-2013, 10:28 PM
LawnSite Member

Join Date: Mar 2013

Location: Lubbock, Tx

Posts: 29
Hey All!
---
Hey guys, I've been lurking on this forum for a few weeks now.. and decided to get registered. I'm on my second season mowing. My first year was slow going. Trying to get my head on straight and put more effort in this year. I'm 33 single, no kids.. so I have nothing to slow me down, except ragweed allergies.. bleh. Normally only affects me for about 45 days at the end of summer.

I have been curious about trademark issues.. as my business name seems to be common, Oasis Lawn care and Landscaping. I've searched for others with the same name in my area and haven't seen anything. I'm not sure how all that works.

I drive a 2 door jeep wrangler.. and have a tiny 4x6 trailer with mostly new equipment. I'm a pay as I go kinda guy.. I don't like financing equipment. Goal for this year is buy a Grandstand or an Exmark Vantage. I would prefer the Exmark.. but Toro has the better service in my area.

I was out watering my yard yesterday... and my neighbor came over and asked if I wanted a reel mower. I asked him how much he wanted.. and he said "nothing, you can have it" So I asked if it was broken or something.. he said "no, I just don't need it anymore, and I noticed you didn't have on on your trailer" So I went over and he showed me how to use it.. etc. It's an old California Trimmer.. I think 70's model with a honda engine. Runs perfect... needs a new grass catcher and probably a sharpening/tune up. I've never used a reel mower, and it really made my day! I'll get some pics of it soon.
03-18-2013, 10:56 PM
LawnSite Member

Join Date: Mar 2013

Location: Lubbock, Tx

Posts: 29
Here's the California Trimmer. It runs perfect... mowed my front yard with it already. Need to take it in and get it serviced.. I really don't know much about how to maintain it, other than sharpening the blades... and change the oil. It has an Oil bath filter.. I don't know what that's for either. Don't judge the crappy Toro.. it was a freebie my dad gave me since I take care of his yard now. I hate the Toro personal pace crap.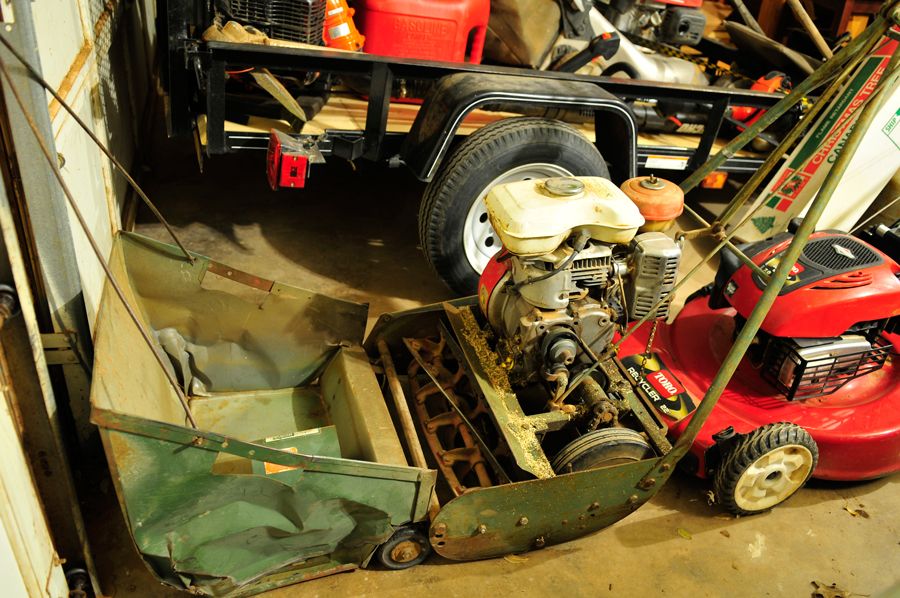 ---
Last edited by West Texas Oasis; 03-18-2013 at

11:02 PM

.
Posting Rules

You may not post new threads

You may not post replies

You may not post attachments

You may not edit your posts

---

HTML code is Off

---
Layout Style: