Heres a quick run down of how I got to the Redmax bcz260TS VS Redmax bcz3060TS VS Echo srm 3020.... For years I always ran a guard on all my trimmers, until one day, I was was tired of having a small cutting swath. At the time, I only had a Stihl fs130r and husqvarna 323L on my trailer. I have various spots on my account, where a wide swath would speed things up. Well I decided to take the guards off, already knowing the negatives and wanting to see the positives. The 130 was a beast and handled the extra line just fine, but the added weight and power wasnt needed all the time. The 323L was kind of a dog if I extended out extra line and it really struggled to keep up. Which led me to wanting to try a torque gear head. I wanted a light weight trimmer that could swing some extra line. Yea I could have just bought a torque head for my 323, but I wanted to try some other trimmers instead.
Last summer I did a bunch of reading on here and decided to go with a Redmax bcz260TS. The Redmax dealer network around me is very lacking. Luckily I found a good redmax dealer that was 50 mins away. This dealer had a bunch of trimmers in stock, he knew his product very well and even gave me a history lesson on Redmax. I told him why I wanted a torque head and he reassured me that this trimmer was the way to go. I even got to test out the trimmer before I made the purchase. This guy earned my business for any redmax products. The only down side was that he was asking $10 more than the msrp which put the trimmer at $370($400 after tax), but again, he earned my business with how he treated me and he gave me his cell number, because he wanted to know what I thought of the trimmer. Once I got to finally use the 260ts for the first time at my accounts, I was very impressed with the performance of the trimmer with the guard removed and it had the torque/power to swing longer line. I was also impressed with the balance of this trimmer, how it handled, it had no vibration and felt good in my hands. Ive been running mainly .095 BD and rotary vortex, but now im trying .105 and I like .105 better. The only place I feel this trimmer is lacking is the air filtration department. They need to get on the same page with what Echo offers on their 2620 and 3020. After one season, dirt was getting past the chinsy air filter.
Sooooo over the coarse of last summer my curiosity started to rise in regards to the Redmax bcz 3060TS.... I enjoyed the 260 so much, that I was curious if the 3060 was like my 260TS on steroids??? Is it really worth the $470($500 after tax) that my dealer was asking??? Its only a little heavier and has a little more hp. Im thinking, I will be able to have an even wider cutting swath and the extra power would be great for the heavier growth spots/time or year. Again I did a bunch of reading on this site to find out all the info I could and I learned that this trimmer is essentially the husqvarna 430LS. This spring, I went to the same redmax dealer and picked up a 3060ts. The 3060 felt great in my hands, just like my 260 and it didnt really feel that much heavier. The weight difference felt minimal to the point that I questioned why I just get the 3060ts instead of the 260ts last summer lol. The first outing with the 3060 wasnt that great, because the carb needed some tweeking, but I was still able to notice the power difference. Yes it was stronger than the 260 and yes I could run longer line..... but the difference wasnt earth shattering like I had hoped for. The 260ts is no slouch. The 3060ts would really shine in tall weeds, where it could just eat, but on smaller growth it was only a little quicker than the 260. Either way, I was still happy with my purchase. Ive been using BD .095 and rotary vortex .095 as well as .105 from both companies. I prefer .105 as it stays taunt better.
After running both trimmers back to back, you will notice that the 260 is in deed lighter. Id like to try a speed feed 450 on the 3060, to see if it would balance out the trimmer even more.
Now redmax offers a 3050s and a 3060ts... one is a solid steel shaft, non torque and the other is a torque head, steel shaft with a damper.. damper???? Also, notice how I said one is a solid steel shaft and the other is just a steel shaft??? I took the 3060 apart to look at the damper and I cant tell whats inside the spring part, but it does have some play to it. I cant prove it without taking it apart, but i dont know if the shaft is just welded to the spring. I do feel this hinders the performance of the machine while running longer liner. I say that, because when running the line longer, it doesnt stay taunt like you think it would. I felt like I could only run the line a tick longer than I can on my 260. It might just be me, but I can feel the give in this spring.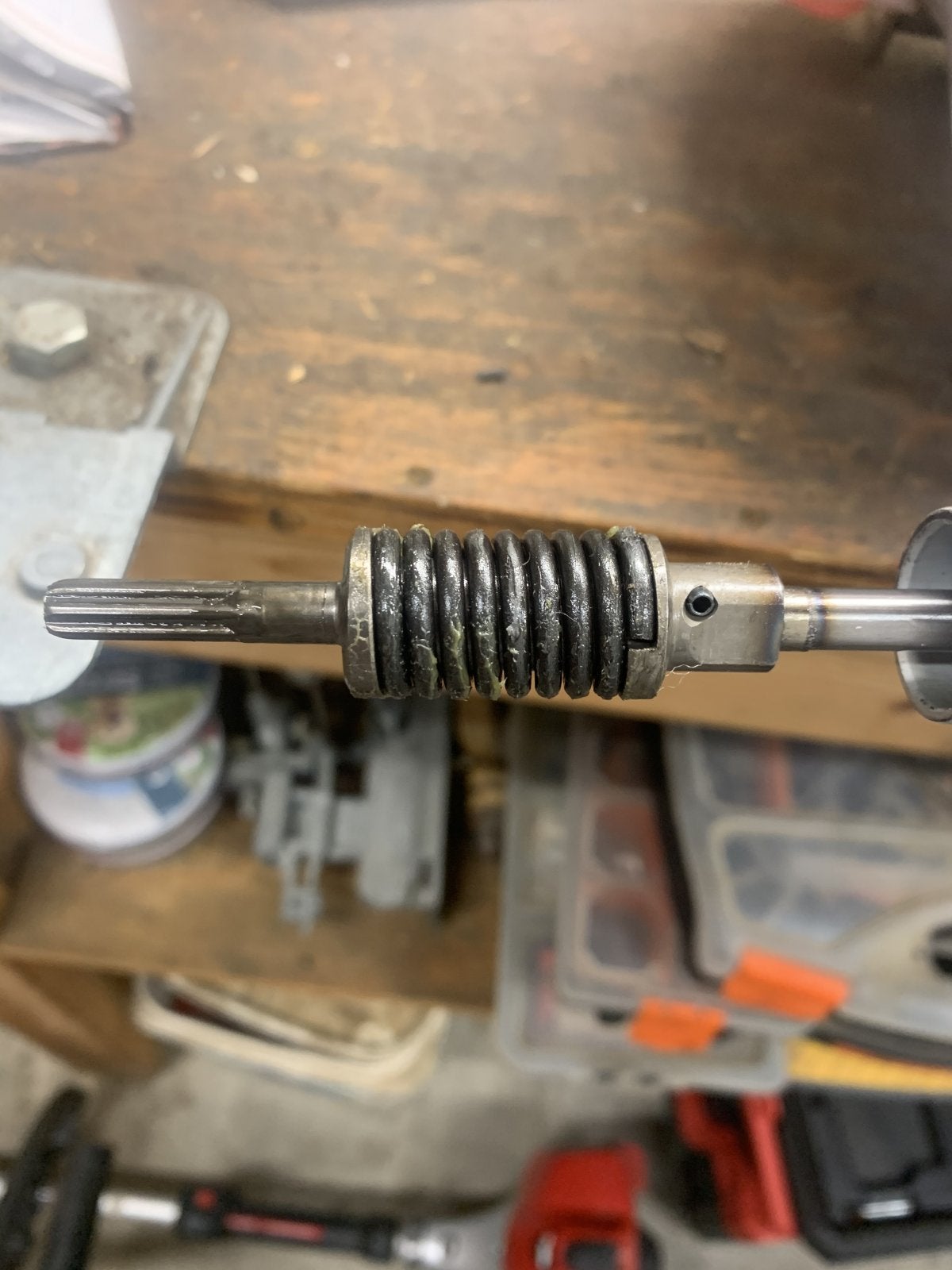 Moving forward, I felt like the 3060 wasnt 100% exactly what I was looking for. For the next few weeks, I would go back and forth from the 260 to the 3060, feeling like I still wanted something stronger. When reading on this forum about bigger trimmers, A few guys on this site would mention how they really liked the Echo 3020. Now im going to be honest, im not an Echo hater as I had used/owned some of their stuff, but i never gave them a thought when it came to their trimmers mainly, because their current drive shafts are cabled. Plus I service equipment for my brother in laws landscaping business and hes had terrible luck since he switched to echo trimmers... mainly cuz the dealer talked him into the srm225's. Anyways, when I started looking up the specs on the 3020, it weighed as much as the 3060ts, but it was rated at 1.8hp where as the 3060ts is at 1.4hp. The non-torque version is $400 plus tax and $430 for the torque version. At this point, i couldnt believe that I didnt look into the echo as it was cheaper and stronger, but I was hung up on the cable shaft.
I decided to locate a torque version of the 3020. Well thanks to covid, I couldnt find a torque version of the 3020 locally. I found one dealer with the non-torque 3020. I then started looking for the shindaiwa version and found a dealer with one in stock. Now if you look up the 302tx on shindaiwa's website, it says it has the regular non-torque head and part numbers even confirm this if you look up the trimmers on partstree.com. Apparently they just give you a different guard, different handle and maybe a strap with the shindaiwa 302t..?? That was enough to deter me from getting it. Maybe some other members could shed some light on this?
When i went to the echo dealer who actually had the regular 3020, i handled the 2620 and thought it was pretty light compared to what some people say on this site. Then I picked up the 3020. It didnt feel as heavy as some people led it to be and it only felt a little heavier than the 2620. I pulled the trigger on the 3020 and I couldnt believe I was buying a non-torque trimmer lol. One of my other hangups with getting this trimmer was that it had a four layered cable shaft. Well after the first time time I used it, I was completely blown away by the performance and balance. I removed the guard and this trimmer didnt flinch at running longer line. It felt even better balanced without the guard and it was everything I was hoping the 3060 was going to be performance wise. The cable shaft had no vibration or any sort of give/slip when running long line in tall grass. This engine is so strong, that it doesnt need a torque head to run longer line. I could actually walk a quicker pace as well. It cuts so clean at low rpm and at high rpm, it just eats. I could use this trimmer for everyday mowing. This echo product really impressed me. This trimmer provides the perfect blend of high speed and being able to run long line. The only thing that worries me with the 3020 would be the cable shaft loosening up over time and making the trimmer vibrate. I dont notice any vibration right now, nor when im putting a heavy load on the trimmer. Im still in the "honey moon" phase with this trimmer lol.
If I could do it all over again, I would have skipped the 3060ts for $500 and only spent $430 for the echo 3020. I feel that buying the non-torque version was a blessing in disguise.
I will echo what another member just posted in his thread where he talked about torque gear heads, the smaller cc trimmers benefit from the torque gear heads if you want to run longer line with no guard and the bigger cc trimmers dont need the torque gear head to run longer line with no guard.
More information on high torque trimmer heads
The one thing i have noticed from coming from using the torque head to non-torque head, is that quicker line speed on the non-torque allows me to walk quicker.
Sorry for the long winded post, but i wanted to share my findings and hope that it helps someone in the future.